San Jose, CA – TapClicks, Inc., a leading marketing technology company and marketing dashboard and reporting provider, is excited to announce the results of their inclusion in Forrester's March 2016 report, Boost Customer Insights With Actionable Marketing Dashboards. Interviewed among 18 other vendors and user companies, the report showed TapClicks has the largest number of marketing tools or data sources. At the time of publication, TapClicks had 128 data sources, which by our calculations was 412 percent over the next highest amount at only 31 and the least amount at 5.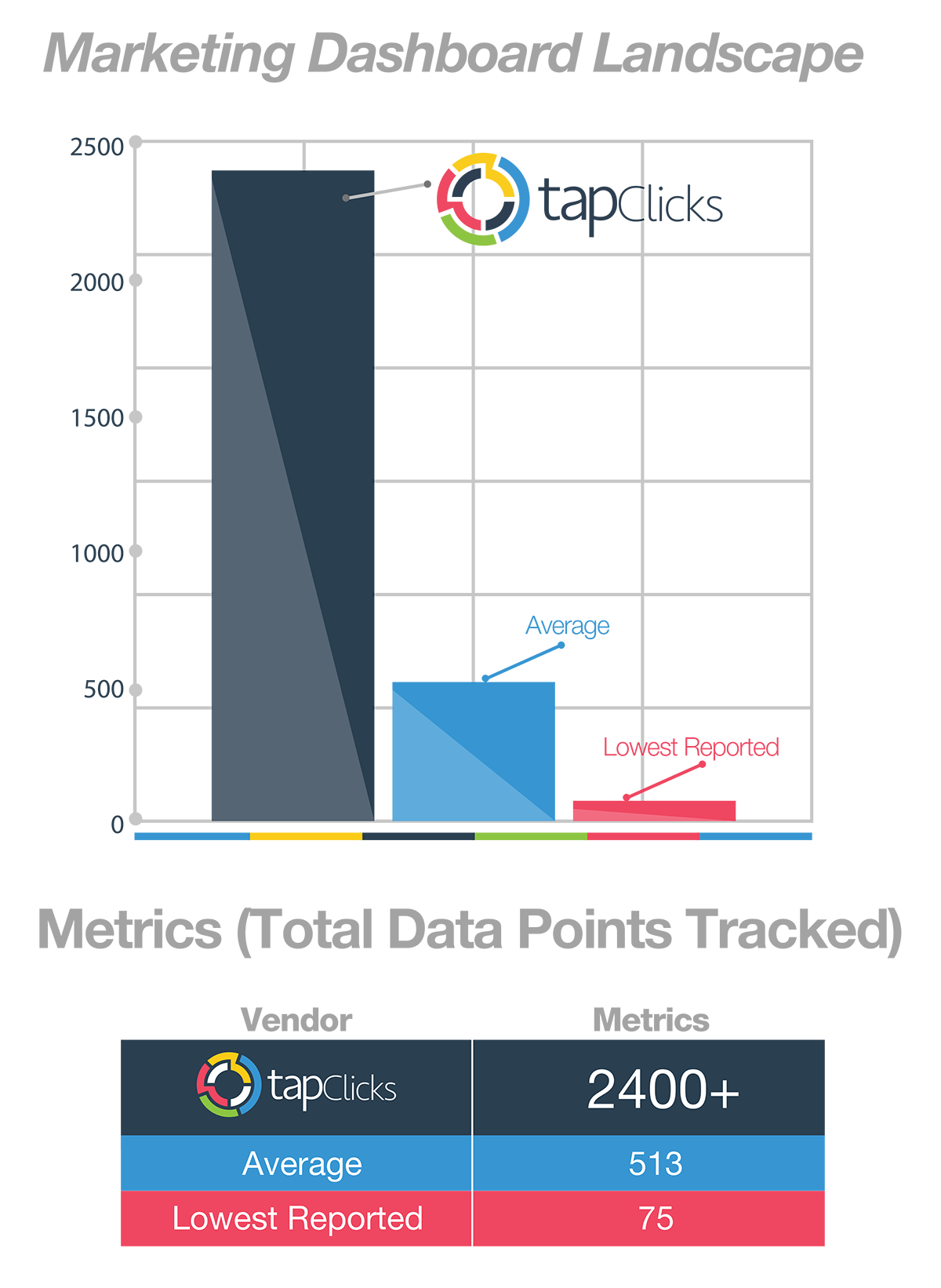 The report also revealed the actual number of tracked data points and metrics for each marketing performance measurement vendor Forrester included in the sample set. This type of tool is also known as a marketing dashboard to the broader market.
The report shows TapClicks tracked over two thousand metrics at the time of the report. Based on our calculations on the information available at the time of publication, this is more than 2 times the next highest vendor (1000+ metrics), and more than 30 times the vendor with the lowest number of metrics (75) in the sample set.
Since the publication of the report, TapClicks has grown to include over 175 data sources and over 4200 metrics. "Some companies track only a few metrics for each service integrated, for example just clicks and impressions or just emails sent and open rate. TapClicks, on the other hand, prides itself on having the deepest integrations of any platform in the industry. We capture virtually every metric available in each of these marketing tools directly, then bring them to life in our omnichannel dashboard and reporting," Zachary Jarvinen, TapClicks Director of Product Marketing, elaborated further.
TapClicks believes the breadth and depth of its metrics and data sources will cause ripples across the industry, which is already being disrupted by TapClicks' existing reputation as a low-cost, easy-to-use and now most complete marketing dashboard.
The full report, Boost Customer Insights With Actionable Marketing Dashboards: A Practical Guide For Technology And Business Professionals To Collaboratively Build Effective Marketing Dashboards, by leading research and advisory firm Forrester, can be found here (Access requires subscription or purchase).